Our team offers custom, high-quality deck chairs that will last for years to come.
Here at Mathis Home Improvements, Inc., we believe in taking care of every detail on our projects to ensure that we get the best results. When it comes to building a deck, one essential piece of the project is the deck stairs–even if you only need a few steps to get you from the deck height to the ground, it's still important that those stairs be as sturdy, durable, and beautiful as the rest of your deck. If you are planning on adding a deck or if your existing deck stairs are starting to deteriorate, you can reach out to our team to build the top-notch stairs you deserve.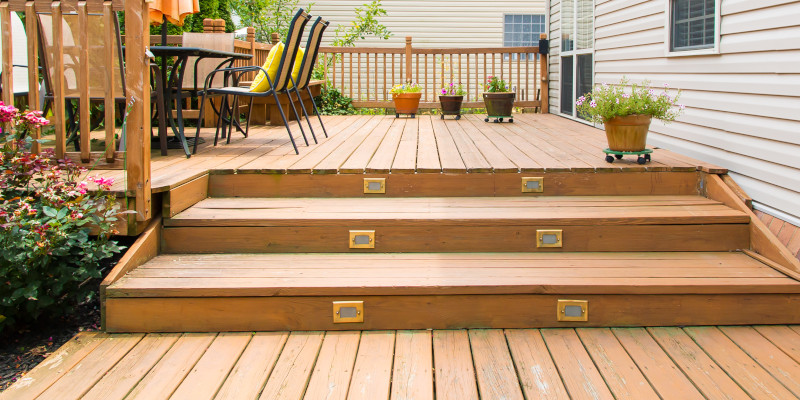 Although you may not think about it much, a set of stairs is a big safety concern when designing any structure. There are many careful measurements and calculations that go into making sure that the angle of the rise is not too steep, and that each individual step is spaced properly so that climbing the stairs is as comfortable as possible. This much is true even for stairs that are indoors, and they become even more important for deck stairs that will be exposed to the elements. Fortunately, our team at Mathis Home Improvements, Inc. has the right experience to design and build your deck stairs to exacting safety guidelines. We use only the best materials to protect your stairs from water damage, and we'll take every precaution to ensure that you can climb them safely in any weather condition.
We at Mathis Home Improvements, Inc. are proud to serve the Greensboro, North Carolina community, and we want to help you make your deck the best it can be. If you want to ensure that you have the safe, reliable deck stairs you deserve, just give us a call.
---
At Mathis Home Improvements, Inc., we build deck stairs for customers in Winston-Salem, Greensboro, High Point, Clemmons, Advance, King, Kernersville, Walkertown, and Mt. Airy, North Carolina.